Construction workers from Turkey, Italy, Mongolia and Taiwan, including managers,  all of whom are H-2B employees, joined casino personnel on CW-1 permits, including a Michelin Star chef, Hai Son Chen, and local employees as they gathered outside the Horiguchi Building at 10 a.m. After less than an hour of displaying their placards and expressing their concerns to reporters, they headed to the  CNMI Labor office on Capital Hill.
Jess Aquiningoc, a construction site manager, said they did not get their salary because they were told that the IPI bank account has been frozen due to the Pacific Rim lawsuit against IPI.  
On May 28, the federal court entered an amended civil judgment in favor of Pacific Rim in the amount of $6.8 million including the principal amount and attorney's fees and costs.
The federal court also granted the application for a writ of execution filed by the contractor to seize money owned or controlled by IPI from Bank of Saipan, City Trust Bank, Bank of Guam, and First Hawaiian Bank; and two escrow accounts believed to be owned by IPI at Security Title Inc. and Pacific American Title Inc.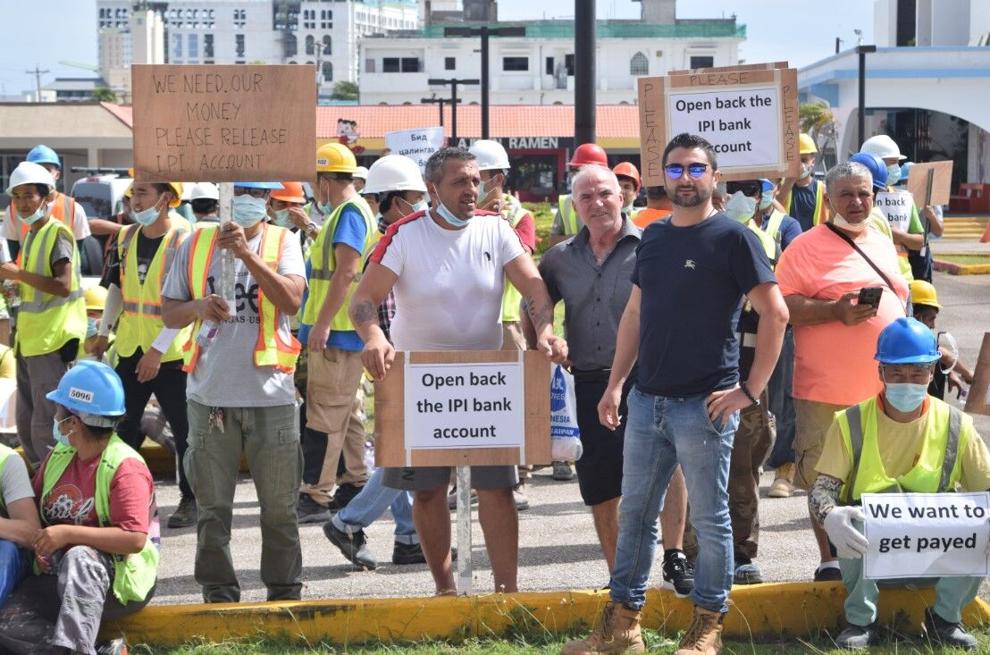 Construction workers from Turkey hold placards as they stage a protest outside the federal court/Horiguchi Building in Garapan on Monday morning. Photo by Emmanuel T. Erediano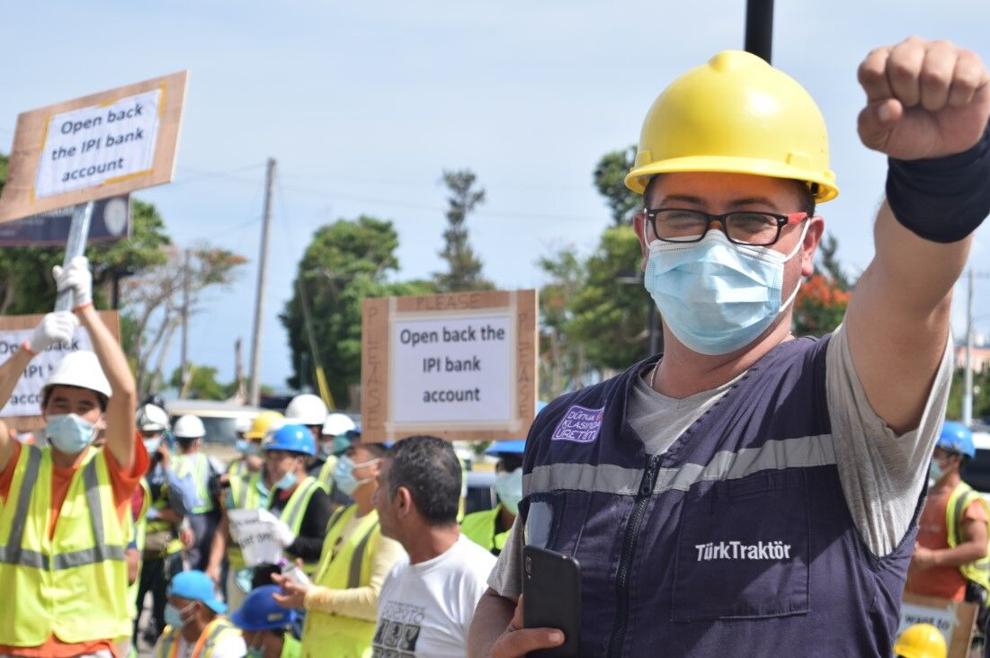 A construction worker raises his clenched fist as he and other Imperial Pacific International employees stage a protest outside the federal court/Horiguchi Building in Garapan on Monday morning. Photo by Emmanuel T. Erediano
"We did not get our money on Friday that is why we are here," Aquiningoc  said. "We are asking the court to release the funds so the employees can get paid."
Bulent Peker, the manager of a construction team from Turkey, said they just want their salaries.
He said he and his team were not paid on Friday. Some workers, he added, have not been paid for two paydays already.
"We came here in order to feed our families, in order to get paid our salaries, in order to do all these things. With all due respect, we are trained to finish something good for the island. We are trained to complete something good for the islanders. All of us have families to feed. But what is happening, as we read from your newspaper, that there is big fight between IPI and people here all around. You know, it's not our problem. We just want to get paid our salaries," Peker said.
He said they also worked in Africa and got paid.
"All these people here now are hungry. Will the judge come and pay us? Will the judge come and pay our salary and give us food? Will the judge feed our families? We are trying to help this island, we are trying to do something good for the island, but what is happening? Just not good. What we want is a very simple thing. We don't care what is happening between IPI and the people of this island. It is not our business. We just want our salaries. In order to get our salaries they just need to unfreeze the payroll account," he added.
Glenn Bell, the manager of Italian construction team, said their paychecks have bounced, and the condition at their barracks is "inhumane."  The Commonwealth Utilities Corp. had disconnected power to the employees' housing units due to the failure of IPI to pay its utility bills
"We have been here for eight months and we're so fed up with this sort of condition. We want justice. We want those conditions in the barracks rectified," he said.
All they want, he said, is to be able to continue to work and finish the project while given a normal condition and get paid for every day that they worked. But that is not happening, he said.
"Somebody should be standing up for us in this island. We are foreigners here, we were invited to come here and work. And we get [saddled] with these conditions. We're not happy with it, and my men are disgusted with it. From where I came, this would not exist. This is supposed to be an American soil and someone should do something about it," he added.
Ed Oliva, who was hired as bus driver for the construction workers, said their paychecks have bounced.
Information Technology manager Arnel Gorospe said 90 percent of 2,000 IPI employees were furloughed due to the Covid-19 pandemic. Those who are still working are worried that once the court orders the seizure of IPI assets including its gambling equipment, they will all lose their jobs.
In a statement, IPI management said that as direct results of court orders, the payroll account of IPI has been frozen, "creating a major factor of unrest among the workers."
"During the current pandemic, businesses throughout the world suffered, but even so, IPI had been holding tight to meet its corporate responsibilities, and sought all venues to ensure that payrolls are paid to employees," IPI management stated.
"We were shocked to see the District Court [granted] the writ of execution and froze all IPI accounts before reviewing IPI's evidence and considering IPI's defense. [They] are aware that not all IPI employees have cashed out their money."