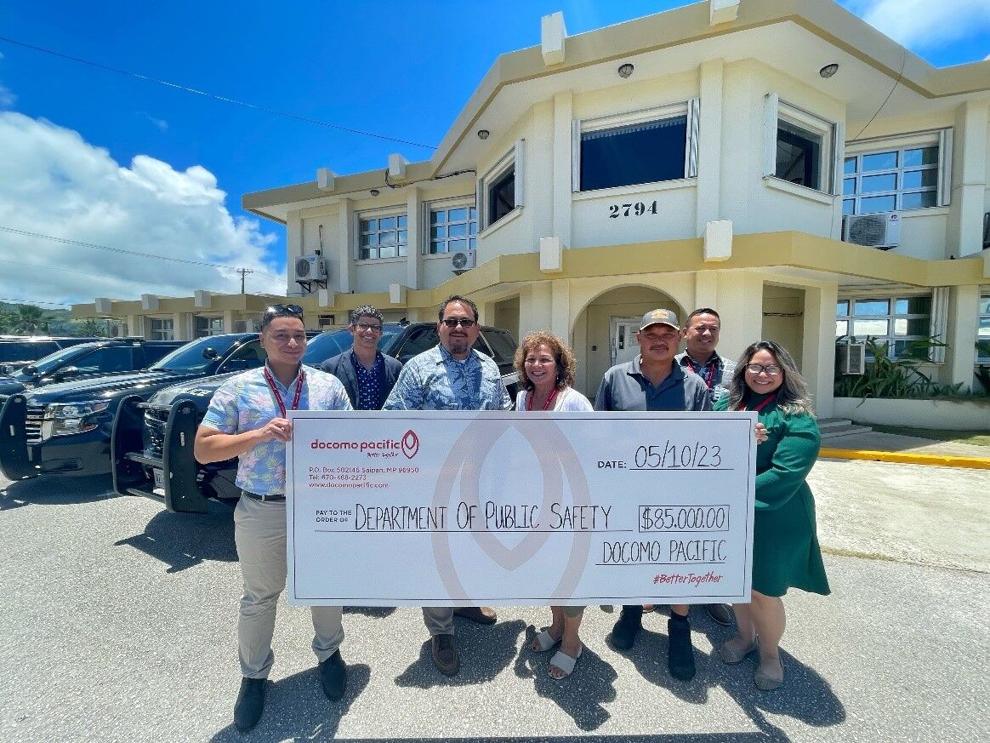 DOCOMO Pacific, the regional leader in innovation, telecommunications, & entertainment, has donated over $80,000 worth of security cameras to the CNMI Department of Public Safety.
The donation to CNMI's first responders caps off Public Safety Awareness Month, when community revitalization is in full swing. As the government and private sector work together to find ways to enhance the overall island experience for locals and tourists alike, this cutting-edge technology will optimize public safety and crime prevention.
"This donation builds on our continued commitment to the CNMI. Through collaborative public/private effort, we can lessen the burden of first responders, provide improved response times and most importantly minimize the danger for both the first responder and our people. A true commitment to service by working Better Together,"  said Pauline Johnson, CNMI general manager, Docomo Pacific.
The Department of Public Safety will use the security cameras in strategic locations to help deter crime and to add an extra layer of security for the local community. The department's commitment to serve and provide protection against life-threatening incidents and community disruption will be aided with more visibility when every second counts.
"This generous donation from our community partner, Docomo Pacific, will enhance our capacity to detect and identify criminal violators across our islands. We are committed to the safety and security of our communities. And we appreciate Docomo Pacific's support to law enforcement," said Clement Bermudes, commissioner of the Department of Public Safety.
The donation is part of Docomo Pacific's commitment to providing tomorrow's islands, today.
In April 2020, the industry leader restored the island's largest pavilion, the Minachom Atdao.
In August 2020, they were the first to provide 5G in the Marianas.
In June 2022, over $60,000 in financial aid was committed to the first-ever Pacific Mini Games in the CNMI.
In February of this year, they completed a multi-million dollar mobile investment, enhancing the overall customer experience within the Marianas.
About Docomo Pacific 
Docomo Pacificis a wholly owned subsidiary of NTT Docomo, Japan's leading mobile operator. Headquartered in Tamuning, Guam, Docomo Pacific is the largest provider of personal, residential, enterprise connectivity and entertainment services in Guam and the Northern Mariana Islands. "We are the seven-time winner of Best of the Pacific. Docomo Pacific is dedicated to bringing you and your family closer to the things that matter most. Get to know more about what makes us 'Better Together' at www.docomopacific.com/."